Flight Outfitters Seaplane Duffel Bag Small - 40L
Flight Outfitters Seaplane Duffel Bag Small - 40L
Code: FO-CPLANEDUF-SM
Price Includes VAT (20%)*
The newest range from the Flight Outfitters crew offers a water-resistant hard wearing duffle bag. This is the 40L version, the smaller of the two but still measures over 2 foot in length. Uncomplicated bag designed to let you throw everything into the single huge compartment and get going. Storm flap keeps out the water
Order within

for dispatch on
The newest range from the Flight Outfitters crew offers a water-resistant hard wearing duffle bag in two sizes. This is the 40L version, the smaller of the two but still measures over 2 foot in length. Uncomplicated bag designed to let you throw everything into the single huge compartment and get going. Storm flap keeps out the water
These rugged, water-resistant duffel bags are made for remote fishing trips, cross-country flights in old taildraggers, and any other adventures you can dream up. The huge center compartment can haul almost anything, from clothes to hunting gear, and features a padded bottom layer for protection. Best of all, the Seaplane Duffel remains flexible enough to stuff into cramped luggage compartments. You can even roll it up and pack it away in another bag when not in use. It's your go-anywhere, do-anything bag—whether you're flying or not
FEATURES
Ripstop fabric with TPU layer shakes off water and is easy to clean.

Large, U-shaped zipper provides easy access to the spacious main compartment.

Storm flap over the main zipper prevents water from entering.

Extended carrying handles can slide over your shoulder to transform into a backpack.

Easy-grab side handles make airplane loading fast and easy.

Front zipper pocket keeps smaller items separated but quickly accessible.

Two mesh, zippered pockets in the top flap hold delicate items.

Webbing loops are perfect for attaching a carabiner or securing the duffel in flight (maybe even to the float of a seaplane!)
SPECS
40L duffel measures approximately 9" h x 12" d x 24" l.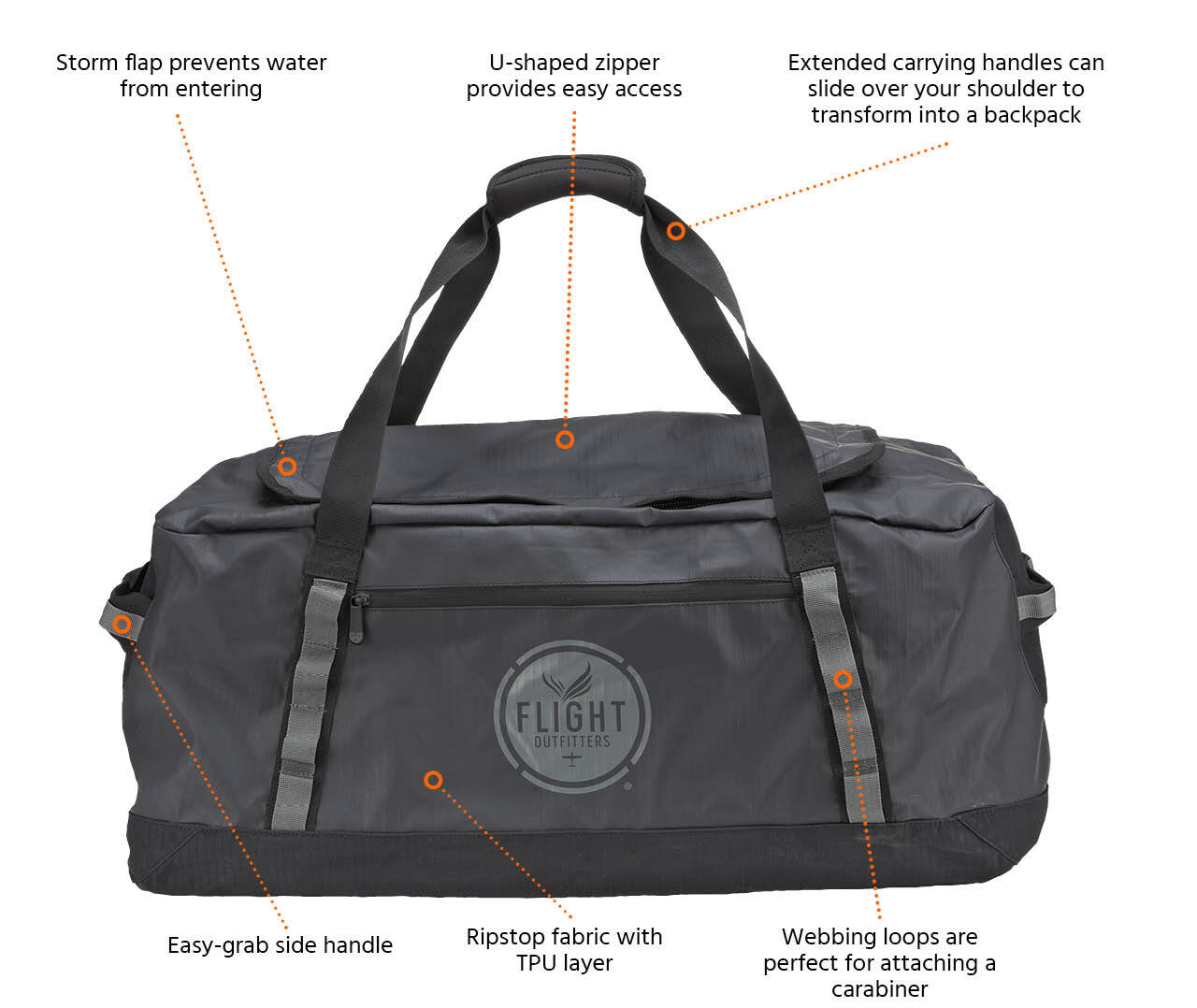 ---
No reviews yet, please leave a review below
The newest range from the Flight Outfitters crew offers a water-resistant hard wearing duffle bag in two sizes. This is the 40L version, the smaller of the two but still measures over 2 foot in length. Uncomplicated bag designed to let you throw everything into the single huge compartment and get going. Storm flap keeps out the water
These rugged, water-resistant duffel bags are made for remote fishing trips, cross-country flights in old taildraggers, and any other adventures you can dream up. The huge center compartment can haul almost anything, from clothes to hunting gear, and features a padded bottom layer for protection. Best of all, the Seaplane Duffel remains flexible enough to stuff into cramped luggage compartments. You can even roll it up and pack it away in another bag when not in use. It's your go-anywhere, do-anything bag—whether you're flying or not
FEATURES
Ripstop fabric with TPU layer shakes off water and is easy to clean.

Large, U-shaped zipper provides easy access to the spacious main compartment.

Storm flap over the main zipper prevents water from entering.

Extended carrying handles can slide over your shoulder to transform into a backpack.

Easy-grab side handles make airplane loading fast and easy.

Front zipper pocket keeps smaller items separated but quickly accessible.

Two mesh, zippered pockets in the top flap hold delicate items.

Webbing loops are perfect for attaching a carabiner or securing the duffel in flight (maybe even to the float of a seaplane!)
SPECS
40L duffel measures approximately 9" h x 12" d x 24" l.